Happy New Year everyone, we hope the Hangover Monster wasn't too unkind to you 🙂
As 2018 begins we find ourselves thinking about new designs for this year and the forthcoming Spring Season. Firstly we are expanding our costume range with sexy super tight new additions to our nurse and maid outfits. In addition we are introducing more pieces into our popular Bite Me and Vampire lingerie range which will include mini dresses and skirts.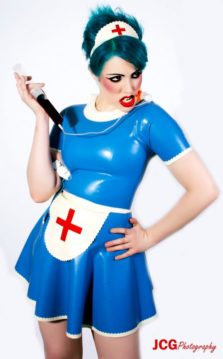 Emma Alicia in our classic Pin Up Nurse costume
Exciting New Patterns
Spring time will also see us revealing new patterned latex garments, we are still totally in love with our laser cutter and will continue to use it for our appliques.However the patterned latex sheeting will allow us more freedom over designs. Mr Fetasia has spent many a late night trialling test pieces. We can't wait to reveal what we have been proto typing in the studio for the last few months starting with a new boudoir range.
Our Suspenders Zip Crotch panties are our first offer of the month for 2018. Available in 7 standard sizes and a huge range of translucent and opaque colours there is a pair to suit everyone.
Happy New Year again
Leafie & Dix