WELCOME TO FETASIA LATEX
Hi there,
If you are on this page it means you probably have an interest in latex design and rubber based clothing and are wondering how we came about and what Fetasia Latex stands for :).
OUR BACKGROUND
Fetasia Latex is run by myself Leafie Mckinney and my other half Dix.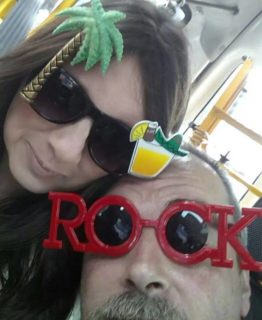 Yup, don't we look cool??
We are based in Leeds in the North of England. I mainly design and do the day to day admin, Dix makes our designs. He hand makes each piece, apart the appliques which are now laser cut on our in house laser cutter.
We started Fetasia Latex in 2010 after discovering that as a petite lady and being new to the fetish scene that getting latex outfits to fit me properly was a bit of a chore. Coming from design backgrounds we began making our own pieces, our latex outfits started to get admiration on Facebook so here we are.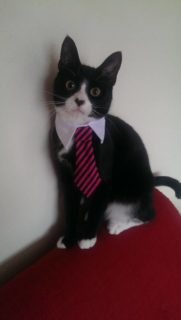 Oh Yeah, I nearly forgot Jinkx , our manager, I mean cat, he's become a bit of a team mascot on our social media sites, as you see he likes to think he is in charge 🙂
WHAT WE STAND FOR
We specialize in original bespoke latex clothing made to an extremely high standard. Our latex is sourced from Radical Rubber and 4D and we only use latex of .4 grade or above in our designs to ensure support, strength and an amazing feel on the skin. We are passionate about our designs and customer service is extremely important to us. We aren't happy unless you are happy 🙂
We also design a range of ready-to-wear latex dresses and accessories for all your rubber fetish requirements.
We create pieces ranging from cosplay interpretations of comic, film and TV characters, Pin Up, High fashion and heavy rubber fetish including harnesses, straight jackets and full enclosure.
If you are looking for something to get you noticed in the bedroom, such as a latex baby doll, sexy lingerie or a quirky twist to a traditional outfit, Fetasia Latex is sure to create the look you desire.
The current range is available to view in our Shop, Etsy Page and also on Facebook
Thank you for reading our About page
Happy Browsing
Dix & Leafie.